Posted on July, 08, 2016 by admin
Physical therapy is a professional service provided by trained medical professionals to help individuals recovering from illness, injury, or trauma restore their optimal level of physical function and movement. There is no age limit on who can benefit from physical therapy; children, adults, and seniors can all benefit from it. That being said, the benefits that physical therapy presents for seniors are plentiful and should not be overlooked.
Benefits of physical therapy for seniors include:
Improved mobility and motion
Quicker recovery from injury, illness, and surgery
Improved balance and stability
Increased strength and coordination
Reduced dependence on pain medication
In some cases, ability to avoid surgery altogether
Physical therapy utilizes many forms of treatment to help aging adults regain their physical functioning. Some common treatment options include assisted stretching, walking, heat, and cold therapy. Other popular methods of physical therapy for seniors can include ultrasound, electrical stimulation, and hydrotherapy.
Before beginning a physical therapy regimen, a physical therapist will evaluate each patient's condition and unique situation to come up with a treatment plan. Once a treatment plan has been established by the physical therapist, physical therapy assistants will help facilitate the treatment.
There are a wide range of conditions that physical therapy can help with. In senior citizens, the most common reasons for seeking physical therapy include:
Arthritis
Localized or systematic pain
Diabetes
Parkinson's
Alzheimer's
Stroke
Injury from a fall (broken hip, etc.)
Multiple Sclerosis
While these conditions are the most popular reasons for seniors to need physical therapy, this list is by no means exhaustive. There are many more reasons that aging adults might require physical therapy.
All in all, physical therapy is a great way for seniors to regain their physical health, strength, and independence. At Premier Choice Health Services, we provide physical therapy services to our clients to help them regain optimal functioning and improve the quality of their life. Contact us today to learn more about all of our services.
Posted on February, 18, 2016 by admin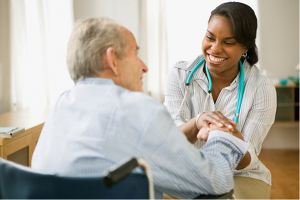 Home health care refers to a wide range of services performed by licensed and trained State Nursing Assistants and other health care professionals. There are a variety of people who benefit every day from home health care services.
If you're wondering if home health care is the right option for yourself or your loved one, see the list below to learn who can benefit most from home health care.
Aging individuals who wish to maintain their sense of independence and stay in their homes as long as possible
Persons of all ages who need care or special assistance upon returning home from the hospital after surgery or illness
Those struggling with mental illness who need daily support and monitoring
Adults who want their aging or ill parents to receive quality care in the comfort of their home
And many other individuals with chronic diseases and disabilities, who need continued observation but do not want or need to enter a nursing home or other assisted living type facility
As you can see, there are many reasons for an individual to request home health care beyond what most people would think. Home health care covers a variety of conditions and situations, so if you're uncertain whether or not it's the right choice for yourself or your loved one, you can always call us to find out more 614-896-6420.
So, what can home health aides assist with? There are many tasks that can be performed by home health aides. Some of the basic and most common tasks include:
Meal preparation and meal time assistance
Laundry
Hygiene tasks such as bathing, oral care, and grooming
Light house keeping
General health supervision
Companionship and conversation
This list only touches on the basic of what our home health aides can do through our premier choice health services. Each client's needs are unique and therefore what one person needs, another may not. The great benefit of home health care is that it can be customized to what the individual needs most.
As you can see, home health care offers many benefits to the recipients as well as their family and friends. It is personalized, in-home service that allows people to thrive and heal while finding comfort in being in their own home and with their usual surroundings.
Do you have additional questions about home health care and what it can provide you or your loved one? If so, please call us today.
We are happy to tell you about our services in more depth and answer any questions you might have! You can reach us at 614-896-6420.
Posted on December, 03, 2015 by admin
The medical field is demanding of your time and energy. Learn what employers look for when hiring an STNA.
If it is your dream to pursue a career in healthcare, a job as a state tested nurse's assistant is one quick way to get you from training and classes straight into the field. Whether hiring privately, at hospitals, in nursing homes or in rehab facilities, there is no shortage of employers looking to fill STNA positions. Certainly your passion for where you work and what you do will shine through to your potential employers, but what else do they want in their potential employee? Here is what employers look for when hiring an STNA.
How To Get Hired As A STNA
While you may think holding a successful passing score from your classes is enough to get your foot in the door, there are many other qualities and attributes that your STNA employer is looking for when filling a nursing position. Here are some characteristics they are looking for:
Successfully State Tested Employees. A no brainer; if you're applying for a STNA position, your employer wants to know that you passed and were successfully state tested and approved.
Good Written And Verbal Communication. As with any job in the healthcare field, your training in written and verbal communication is of the utmost importance. Not only should you be taking proper notes on your patients, you also need to be able to properly communicate with your colleagues in a clear and concise manner.
Observation Skills. As an STNA you will be observing your patients every single day, and even the slightest change in behavior may signal an issue with your patient's health or treatment. STNA's do well to be detail-oriented at their jobs.
Time Management. When working as a nurse's assistant, there will be many patients to take care of in a small amount of time. Since you do not always work in a monitored situation, your time management and organizational skills will be a key element to your value.
Responsibility. As with any job, your employer does not want to hire someone who will pass off shifts, or call in sick often. Remember as an STNA when you do not show up for your shift you are letting down not only your fellow nurses and colleagues, but also your patients who need your compassion, support, and training.
Are you interested in pursuing a career as an STNA? Let PCHS help get you started today by signing up for STNA classes and taking advantage of our 98% pass rate for careers in healthcare.
Posted on June, 19, 2013 by admin
Aging gracefully can be tough for seniors as well as their families. Many seniors need a level of care that their families are unable to provide, which can take a toll on relationships and cause stress. At Premier Choice Health Services, we understand how difficult this time of life can be and we can help. We are knowledgeable about home health care services such as PASSPORT, which allow your loved one to age with success, health, and independence.
PASSPORT stands for Pre-Admission Screening Services Providing Options and Resources Today and provides home health care services for eligible applicants.
Who is eligible for PASSPORT?
Applicants must be over the age of 60
They must require a level of care typically provided in nursing homes, yet have the approval of a physician to remain safely at home
They must be financially eligible to receive Medicaid benefits just as if they were applying for nursing home care (make less than $2,130 per month, with less than $1,500 in countable resources).
They must not require care more than 60% of the cost of nursing home care.
Why consider PASSPORT?
It is difficult to transition from being independent to needing health care. Relocating to a nursing home facility can be traumatizing and often embarrassing for seniors. PASSPORT services relieve the difficult transition by providing health care in the home. Seniors can remain independent and members of their community while still receiving the health care that they need.
Why use Premier Choice Health Services?
At PCHS, we care for your loved one as if they are family. We are educated about home health care services such as PASSPORT and are completely committed to providing the highest standard of care for you or your loved one. Our caregivers are put through a rigorous screening process to ensure that they will be a suitable fit for you and your family. Our care managers closely supervise our caregivers so that every service member is accountable and responsible.
Ease the transition in the life of you and your loved one and inquire about PASSPORT through Premier Choice Health Services today.
Posted on April, 25, 2013 by admin
For seniors who absolutely need nursing care but either do not or cannot be in an actual nursing home, there are limited options.  While needing care is not an ideal situation to begin with, receiving it outside of a nursing home can easily and quickly become quite the ordeal.
While it is nice to be with family, asking them for care can be a difficult and dangerous endeavor.  Family members may have the best of intentions but they typically do not have the training necessary to care for senior citizens.
This is where PASSPORT comes into play.  PASSPORT is a home care system that provides help to seniors in the comfort of their own homes.  This Medicaid waiver was created to be an alternative to nursing homes for seniors.  Through the system, registered medical professionals provide personal care to those who need it most which makes PASSPORT absolutely crucial to the health and well-being of seniors in Ohio.
Because PASSPORT is so important to healthcare in Ohio, Premier Choice Health Services has recently become certified by the Ohio Department of Aging to provide PASSPORT care.
With our PASSPORT certification, we now give patients
Personal Care
Homemaker Services
Chore Services
Independent Living Services
At PCHS, we value the individual and so we aim to provide individual care.  We teach the importance of maintaining a patient's dignity and independence so PASSPORT is a natural fit for us.  We believe that PASSPORT perfectly fits who we are as caregivers so we couldn't be more excited to begin providing these services to seniors across the state.
While there are requirements to qualify for PASSPORT, they are manageable for many people.  If you have questions about PASSPORT for you or for your loved ones, give us a call today!
Posted in Home Care | Comments Off on What is PASSPORT Home Based Care?