Who Can Benefit From Home Health Care?
Posted on February, 18, 2016 by admin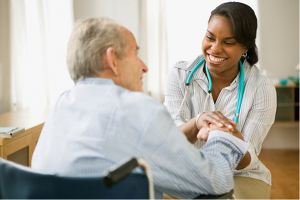 Home health care refers to a wide range of services performed by licensed and trained State Nursing Assistants and other health care professionals. There are a variety of people who benefit every day from home health care services.
If you're wondering if home health care is the right option for yourself or your loved one, see the list below to learn who can benefit most from home health care.
Aging individuals who wish to maintain their sense of independence and stay in their homes as long as possible
Persons of all ages who need care or special assistance upon returning home from the hospital after surgery or illness
Those struggling with mental illness who need daily support and monitoring
Adults who want their aging or ill parents to receive quality care in the comfort of their home
And many other individuals with chronic diseases and disabilities, who need continued observation but do not want or need to enter a nursing home or other assisted living type facility
As you can see, there are many reasons for an individual to request home health care beyond what most people would think. Home health care covers a variety of conditions and situations, so if you're uncertain whether or not it's the right choice for yourself or your loved one, you can always call us to find out more 614-896-6420.
So, what can home health aides assist with? There are many tasks that can be performed by home health aides. Some of the basic and most common tasks include:
Meal preparation and meal time assistance
Laundry
Hygiene tasks such as bathing, oral care, and grooming
Light house keeping
General health supervision
Companionship and conversation
This list only touches on the basic of what our home health aides can do through our premier choice health services. Each client's needs are unique and therefore what one person needs, another may not. The great benefit of home health care is that it can be customized to what the individual needs most.
As you can see, home health care offers many benefits to the recipients as well as their family and friends. It is personalized, in-home service that allows people to thrive and heal while finding comfort in being in their own home and with their usual surroundings.
Do you have additional questions about home health care and what it can provide you or your loved one? If so, please call us today.
We are happy to tell you about our services in more depth and answer any questions you might have! You can reach us at 614-896-6420.