Posted on August, 09, 2021 by admin
Apprehensive about taking your certification?  You are not alone!  Very few people actually like taking tests.  Even fewer people like preparing for tests but with a few simple tips to remember, getting ready for your CNA practice test or exam can go a little smoother than you may have expected.
Make a schedule for yourself.  You probably don't have entire days that you can devote to studying and that's fine.  As long as you take time out of your day to study, you should be fine.  Of course, your schedule should also include eating, sleeping, and possibly some time with friends and family.
Write up flashcards.  Flashcards are a great tool that you can carry with you anywhere.  If you have a couple minutes to spare while riding the bus, pull out your flashcards and go over important information.
Create a mnemonic device.  A mnemonic device is a way to easily memorize information by applying that information to something else.  For example, a mnemonic device for remembering the Great Lakes is to remember the word HOMES, as in Huron, Ontario, Michigan, Erie, and Superior.  Use that idea to create your own.
Have friends and family test you.  Give your test material to people you know and have them quiz you on it.  It's always helpful to interact with others and this is a great way to be with people you love while still studying.
Don't procrastinate.  If you have studying to do, don't put it off until the next day because, eventually, the next day will be the test day and by then it will be too late.  Study a bit everyday to get yourself prepared but not overwhelmed.
Have a reward in mind.  Tasks become easier when you know you are working toward something.  Tell yourself that if you pass the test, you will reward yourself with an ice cream cone or, if you have kids, a night alone!
Make vocabulary sheets.  Being familiar with the language of a test will always help you.  If you're comfortable with the vocabulary of the subject, you'll be more comfortable with the subject.
Don't cram the day before your test.  Studying should not last only one night.  To really retain the information, you'll need to work a bit everyday.  Cramming the night before might not even be enough to get you through the actual test.
Use your common sense.  If a question seems ridiculously hard, go back and reread it; maybe you missed a key word the first time through.  Before you answer, make sure what you put makes sense logically.
While taking a test is rarely easy, we hope this quick guide gives you some useful tips for taking your Certified Nurses Assistant exam.  If you have any more tips that help you in test taking, let us know!
Posted on October, 13, 2017 by admin
Yes, it is true. This shortage is only expected to worsen as the population ages and more individuals enter nursing homes, where the majority of STNAs work. The shortage of STNAs is a problem for healthcare providers, but can be beneficial for individuals who are seeking rewarding careers.
Due to the shortage, individuals who complete the required training to become STNAs should be able to find employment with ease. In addition, they'll be in a favorable position to demand higher wages and better work schedules because the homes where they will work will not be able to afford to lose them.
STNA training can be completed quickly by dedicated students. As soon as their training is complete, graduates can expect to find jobs.
It is important for certified STNAs to remember the significant value that their training affords them. Every nursing home in Ohio needs STNAs to help to care for residents. STNAs provide valuable services to these residents. Without STNAs to provide these services, nursing home could not operate properly. In addition, not everybody is cut out to be an STNA. The work is difficult and intimate and only hardworking and compassionate individuals can do it properly. With all of this in mind, STNAs should expect to be paid well for their work and to be afforded opportunities to grow and thrive in their careers.
Posted on February, 18, 2016 by admin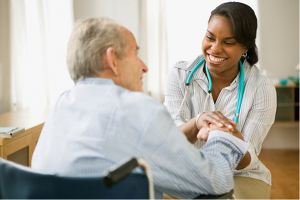 Home health care refers to a wide range of services performed by licensed and trained State Nursing Assistants and other health care professionals. There are a variety of people who benefit every day from home health care services.
If you're wondering if home health care is the right option for yourself or your loved one, see the list below to learn who can benefit most from home health care.
Aging individuals who wish to maintain their sense of independence and stay in their homes as long as possible
Persons of all ages who need care or special assistance upon returning home from the hospital after surgery or illness
Those struggling with mental illness who need daily support and monitoring
Adults who want their aging or ill parents to receive quality care in the comfort of their home
And many other individuals with chronic diseases and disabilities, who need continued observation but do not want or need to enter a nursing home or other assisted living type facility
As you can see, there are many reasons for an individual to request home health care beyond what most people would think. Home health care covers a variety of conditions and situations, so if you're uncertain whether or not it's the right choice for yourself or your loved one, you can always call us to find out more 614-896-6420.
So, what can home health aides assist with? There are many tasks that can be performed by home health aides. Some of the basic and most common tasks include:
Meal preparation and meal time assistance
Laundry
Hygiene tasks such as bathing, oral care, and grooming
Light house keeping
General health supervision
Companionship and conversation
This list only touches on the basic of what our home health aides can do through our premier choice health services. Each client's needs are unique and therefore what one person needs, another may not. The great benefit of home health care is that it can be customized to what the individual needs most.
As you can see, home health care offers many benefits to the recipients as well as their family and friends. It is personalized, in-home service that allows people to thrive and heal while finding comfort in being in their own home and with their usual surroundings.
Do you have additional questions about home health care and what it can provide you or your loved one? If so, please call us today.
We are happy to tell you about our services in more depth and answer any questions you might have! You can reach us at 614-896-6420.
Posted on January, 23, 2015 by admin
Within the health care industry, support staff such as STNAs assist patients' needs for basic bedside care. In the state of Ohio, as a STNA you are certified to work in nursing homes, and other long-term care facilities. STNAs have a number of job responsibilities that are under the direction or supervision of a registered nurse or physician. Working as a STNA, you are the one that has the most day-to-day interaction with patients so if their conditions change, you will be the first to notice and inform senior staff. Here we have broken down a few of the basic roles a STNA is responsible for:
Basic Personal Care: A large part of a STNA's responsibly revolves around basic personal care for patients. This involves assisting patients with using the restroom or bedpan, assisting with bathing or providing sponge baths, and other personal hygiene depending on the patients' mobility.
Basic Nursing Care: STNAs preform basic nursing duties for their patients. As a STNA if your patient is bedridden, they will need to be regularly repositioned to prevent bedsores. Vital signs, blood pressure, pulse rate, temperature, and respiratory rate typically need to be checked and documented.
Physical Activity: STNAs assist their patients with staying physically active. They often lead patients in low-impact exercises that are designed to preserve their range of motion and overall fitness. As a STNA you will work with patients and provide support for their regular physical activity.
Working within the health care industry as a STNA can be a rewarding and demanding position. There are a number of job opportunities within this field and after completing the training to become a STNA, progressing in training is always an option to continue into nursing.