Posted on November, 13, 2017 by admin
The United States is facing a serious shortage of certified nursing assistants (CNAs). As the population ages and the propensity of chronic illnesses continue to increase, this shortage will grow more severe. It is expected that, by 2020, there will be a demand for five million direct-care workers. This is an increase of 48% from the 2010 demand level. CNAs are a key part of the direct-care workforce and often serve as the first line of defense in providing care for the aging or chronically ill. They fulfill essential tasks to improve the quality of life of their patients. CNAs can be found in a range of healthcare facilities, but are most commonly employed in nursing homes.
For individuals who are looking for a career in which they are sure to be in high-demand, a career as a CNA may be a good choice. In order to become a CNA, trainees must undergo some training and pass an examination in order to receive their certification.
PCHS can help you to earn your certification and to obtain the knowledge and experience you need to succeed in a career as a CNA. Due to the high and growing demand for CNAs, obtaining a position with your certification should not pose any difficulties. In fact, you'll likely have your choice between a range of facilities.
Take advantage of this opportunity to become a professional whose skills and knowledge will always be in high-demand. In addition to the high demand for CNAs that will benefit your career, experience as a CNA will also open many new doors for advancing your career and education. For example, some CNAs choose to pursue further education and to become registered nurses. If you are interested in becoming an RN, starting as a CNA is a great way to get some firsthand experience in the health care field.
Whatever you aspirations may be, PCHS can help you get there.
Posted on July, 08, 2016 by admin
Physical therapy is a professional service provided by trained medical professionals to help individuals recovering from illness, injury, or trauma restore their optimal level of physical function and movement. There is no age limit on who can benefit from physical therapy; children, adults, and seniors can all benefit from it. That being said, the benefits that physical therapy presents for seniors are plentiful and should not be overlooked.
Benefits of physical therapy for seniors include:
Improved mobility and motion
Quicker recovery from injury, illness, and surgery
Improved balance and stability
Increased strength and coordination
Reduced dependence on pain medication
In some cases, ability to avoid surgery altogether
Physical therapy utilizes many forms of treatment to help aging adults regain their physical functioning. Some common treatment options include assisted stretching, walking, heat, and cold therapy. Other popular methods of physical therapy for seniors can include ultrasound, electrical stimulation, and hydrotherapy.
Before beginning a physical therapy regimen, a physical therapist will evaluate each patient's condition and unique situation to come up with a treatment plan. Once a treatment plan has been established by the physical therapist, physical therapy assistants will help facilitate the treatment.
There are a wide range of conditions that physical therapy can help with. In senior citizens, the most common reasons for seeking physical therapy include:
Arthritis
Localized or systematic pain
Diabetes
Parkinson's
Alzheimer's
Stroke
Injury from a fall (broken hip, etc.)
Multiple Sclerosis
While these conditions are the most popular reasons for seniors to need physical therapy, this list is by no means exhaustive. There are many more reasons that aging adults might require physical therapy.
All in all, physical therapy is a great way for seniors to regain their physical health, strength, and independence. At Premier Choice Health Services, we provide physical therapy services to our clients to help them regain optimal functioning and improve the quality of their life. Contact us today to learn more about all of our services.
Posted on March, 16, 2016 by admin
If you're considering working as a State Tested Nursing Assistant in the state of Ohio, you might be wondering what kind of benefits there are to this particular career path. Although you are able to change careers at any point in your life, choosing a path and paying for the education that career requires is still a big decision. However, you should know that choosing to work in the medical field as an STNA has many positives. Let's take a look at some of the benefits that come with being an STNA.
Allows you to get experience in the medical field
Starting your medical career as an STNA is a smart choice for many reasons. The investment required to become an STNA is much smaller than that to become a nurse, in both time and money. If you are considering furthering your career in the medical field, starting out as an STNA is a great way to see if the industry is a good fit. By choosing to become an STNA first, you'll get your feet wet and be able to see if you enjoy working in the medical field.
Provides a challenging and stimulating work environment
When you work as an STNA, your work environment and daily duties will be anything but boring. You will most likely be working with multiple patients who have different needs and different personalities. Interacting with patients and other medical care providers will keep you on your toes and provide new challenges every day. If you are someone who prefers a very routine and predictable job, this might not be the job for you. But if you prefer to meet new challenges, working as an STNA will be right up your alley!
Helps you find a sense of purpose
Working with patients who need your assistance and care will help give you a sense of purpose at work. Not every career provides purpose but when you know that the patients are dependent on your skill and care, it will help you find your work more rewarding as you are able to help others live a more fulfilling life. By helping patients with their medical needs, you are brightening their day and their quality of life.
Offers job flexibility in scheduling and location
STNA's are needed around the clock in some work environments which means that you will be able to work a non –traditional schedule if you'd like. Maybe the 9-5 doesn't suit your personality or work with your schedule. If so, you can find work in the evenings or on weekends. In addition to multiple scheduling options, work location opportunities vary greatly ranging from hospitals to providing care for patients in their own homes.
The benefits of working as an STNA could go on and on but we're going to stop here for now. If becoming an STNA is a career choice that you want to pursue, the next step is to enroll in classes to receive proper training. Contact PCHS today to learn more about our STNA training program! Call us at 1-614-896-6420 to get started on your journey to becoming a State Tested Nursing Assistant.
Posted on February, 18, 2016 by admin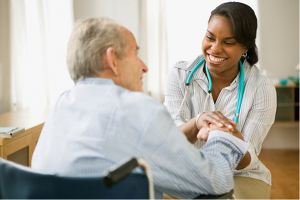 Home health care refers to a wide range of services performed by licensed and trained State Nursing Assistants and other health care professionals. There are a variety of people who benefit every day from home health care services.
If you're wondering if home health care is the right option for yourself or your loved one, see the list below to learn who can benefit most from home health care.
Aging individuals who wish to maintain their sense of independence and stay in their homes as long as possible
Persons of all ages who need care or special assistance upon returning home from the hospital after surgery or illness
Those struggling with mental illness who need daily support and monitoring
Adults who want their aging or ill parents to receive quality care in the comfort of their home
And many other individuals with chronic diseases and disabilities, who need continued observation but do not want or need to enter a nursing home or other assisted living type facility
As you can see, there are many reasons for an individual to request home health care beyond what most people would think. Home health care covers a variety of conditions and situations, so if you're uncertain whether or not it's the right choice for yourself or your loved one, you can always call us to find out more 614-896-6420.
So, what can home health aides assist with? There are many tasks that can be performed by home health aides. Some of the basic and most common tasks include:
Meal preparation and meal time assistance
Laundry
Hygiene tasks such as bathing, oral care, and grooming
Light house keeping
General health supervision
Companionship and conversation
This list only touches on the basic of what our home health aides can do through our premier choice health services. Each client's needs are unique and therefore what one person needs, another may not. The great benefit of home health care is that it can be customized to what the individual needs most.
As you can see, home health care offers many benefits to the recipients as well as their family and friends. It is personalized, in-home service that allows people to thrive and heal while finding comfort in being in their own home and with their usual surroundings.
Do you have additional questions about home health care and what it can provide you or your loved one? If so, please call us today.
We are happy to tell you about our services in more depth and answer any questions you might have! You can reach us at 614-896-6420.
Posted on December, 03, 2015 by admin
The medical field is demanding of your time and energy. Learn what employers look for when hiring an STNA.
If it is your dream to pursue a career in healthcare, a job as a state tested nurse's assistant is one quick way to get you from training and classes straight into the field. Whether hiring privately, at hospitals, in nursing homes or in rehab facilities, there is no shortage of employers looking to fill STNA positions. Certainly your passion for where you work and what you do will shine through to your potential employers, but what else do they want in their potential employee? Here is what employers look for when hiring an STNA.
How To Get Hired As A STNA
While you may think holding a successful passing score from your classes is enough to get your foot in the door, there are many other qualities and attributes that your STNA employer is looking for when filling a nursing position. Here are some characteristics they are looking for:
Successfully State Tested Employees. A no brainer; if you're applying for a STNA position, your employer wants to know that you passed and were successfully state tested and approved.
Good Written And Verbal Communication. As with any job in the healthcare field, your training in written and verbal communication is of the utmost importance. Not only should you be taking proper notes on your patients, you also need to be able to properly communicate with your colleagues in a clear and concise manner.
Observation Skills. As an STNA you will be observing your patients every single day, and even the slightest change in behavior may signal an issue with your patient's health or treatment. STNA's do well to be detail-oriented at their jobs.
Time Management. When working as a nurse's assistant, there will be many patients to take care of in a small amount of time. Since you do not always work in a monitored situation, your time management and organizational skills will be a key element to your value.
Responsibility. As with any job, your employer does not want to hire someone who will pass off shifts, or call in sick often. Remember as an STNA when you do not show up for your shift you are letting down not only your fellow nurses and colleagues, but also your patients who need your compassion, support, and training.
Are you interested in pursuing a career as an STNA? Let PCHS help get you started today by signing up for STNA classes and taking advantage of our 98% pass rate for careers in healthcare.
Posted on November, 09, 2015 by admin
Working in the medical field can be hard work, and takes certain kinds of people to get the job done. So how do you know if STNA is the right career choice for you? We're looking at what your classes don't teach you: 6 character traits that make health care workers great at their jobs.
Patience
When you're feeling physically ill, you're not exactly a ray of sunshine to those around you. The same can be said of your ill patients. Children, sick patients and families under extreme duress may be less than a joy to be around, making your patience one of the most important qualities you can possess in the medical field. When faced with stressful situations, patience will help you perform your job with the utmost professionalism.
Good Communication
Whether you're communicating with a patient or other medical professionals, working as an STNA in the medical field requires the ability to properly express yourself and your needs. This will allow both you and those around you to do your job to the highest standards.
Compassion
Part of achieving the best bedside manner possible includes having compassion for your patients. Showing compassion is integral to your job as a STNA. Aside from dealing with illness or injury, patient's often suffer through stress and have a tendency to feel vulnerable in front of their doctors and nurses. Your compassionate attitude will help you relate to your patient, comfort them, and make them feel at ease.
Tact
Tact is another essential element to a proper bedside manner. While you may be tempted to be blunt with impatient or rude patients, this is not the way to behave as a medical professional. Patients may be dealing with life or death situations, and informing them bluntly of the worst possible scenarios is not the thing to do. With all medical information and compassion shown, use tact and never overstep your bounds as an STNA.
Flexibility
When it comes to your work, STNA careers require a flexible schedule. Nursing is not a 9-5 job, and both patients and your colleagues may need you to go above and beyond when it comes to scheduling. Whether you're covering for a fellow nurse, working in unfamiliar settings, or staying longer than your shift indicates, your flexibility on the job will speak volumes about your work ethic.
Stress Management
Odds are you didn't get into nursing classes thinking you were signing up for an easy job. It's true, burn out is commonly experienced by those in health care, making stress management and work/life balance both key ingredients to working in the medical field.
Do you possess these 6 key character traits? If so, a career as an STNA may be right for you! In the Ohio area and looking to start your STNA training today? Contact PCHS today at 1.614.896.6420
Posted in Careers|Health Care Services | Comments Off on Is STNA The Right Career Choice for You? Common Character Traits of Great Health Care Workers
Posted on July, 21, 2015 by admin
No matter how knowledgeable or accredited you may be as a professional, or how well you did during your STNA training and classes, others opinions of you can quickly falter if you've shown poor communication skills. Whether performed in private care, hospitals, patient's homes, or nursing homes, exceptional healthcare service is a must for an STNA career. One of the biggest factors in how well you behave with your patient and your colleagues is communication.
Dr. Albert Mehrabian conducted many studies on the topic of nonverbal communication and found that nearly 93% of all communication is nonverbal. Be mindful on not only what and how you are saying something, but also the gestures and expressions you use while saying it. Dependent on the way you speak you may either welcome or put-off those around you.
Problems May Arise
Communication is key when it comes to sharing information between parties, which happens to be an integral part of the medical field. When you lack proper communication skills you directly affect not only your patient's compliance, anxiety, satisfaction, and safety, but also your team's level of performance, co-operation, efficiency, and overall job satisfaction.
Your Colleagues
Have you ever heard the saying: "One bad apple spoils the whole bunch"? This can prove true in the medical field. All it takes is one person with poor communication or team-oriented behavior to bring everybody down. Good communication promotes fluid teamwork and prevents workplace conflicts.
Bedside Manner And Patient Relationships
Good communication is key in having the best possible bedside manner, not to mention the overall relationship between you and your patients. Without proper communication you put your patient at risk. Remember that good patient communication is about more than just talking. Practice good communication by listening to your patient and acknowledging their woes, as well as sharing pertinent information with them.
Honesty
Whether speaking to your colleagues or your patients, never tell them you are going to do something if you have no intentions to do so. Be as up front as you can with your patient about their treatments.
So much of the medical field has to do with fantastic communication skills. It's never too late or too early to begin practicing ways to be a better communicator. Doing so will benefit you immensely in your personal and professional life.
Posted on June, 19, 2013 by admin
Aging gracefully can be tough for seniors as well as their families. Many seniors need a level of care that their families are unable to provide, which can take a toll on relationships and cause stress. At Premier Choice Health Services, we understand how difficult this time of life can be and we can help. We are knowledgeable about home health care services such as PASSPORT, which allow your loved one to age with success, health, and independence.
PASSPORT stands for Pre-Admission Screening Services Providing Options and Resources Today and provides home health care services for eligible applicants.
Who is eligible for PASSPORT?
Applicants must be over the age of 60
They must require a level of care typically provided in nursing homes, yet have the approval of a physician to remain safely at home
They must be financially eligible to receive Medicaid benefits just as if they were applying for nursing home care (make less than $2,130 per month, with less than $1,500 in countable resources).
They must not require care more than 60% of the cost of nursing home care.
Why consider PASSPORT?
It is difficult to transition from being independent to needing health care. Relocating to a nursing home facility can be traumatizing and often embarrassing for seniors. PASSPORT services relieve the difficult transition by providing health care in the home. Seniors can remain independent and members of their community while still receiving the health care that they need.
Why use Premier Choice Health Services?
At PCHS, we care for your loved one as if they are family. We are educated about home health care services such as PASSPORT and are completely committed to providing the highest standard of care for you or your loved one. Our caregivers are put through a rigorous screening process to ensure that they will be a suitable fit for you and your family. Our care managers closely supervise our caregivers so that every service member is accountable and responsible.
Ease the transition in the life of you and your loved one and inquire about PASSPORT through Premier Choice Health Services today.